You may already be tracking your website's visitors. But if your analytics reports are not giving you information that helps to direct your marketing and grow your business, you may be missing an opportunity.
Even with Google Analytics up and running, it's not easy to see the insights that really matter to you. Google Analytics has the power to collect a lot of great data, but it can't highlight what is important for your business.
In this article, I will point you to some Google Analytics reports that are good places to start to look for actionable data.
How are people reaching your website?
People can arrive at your website from a search engine or via links in emails, social media, ads or other websites. It is important to understand traffic sources and their trends, since they are influenced by different marketing activities.
The Channels Report, found under Acquisition > All Traffic > Channels, is your first stop.
This report shows how people are reaching your website, broken down into broad channels. Initially, I would focus on these metrics – Sessions, Bounce Rate and Pages/Session. You will get an idea of the relative contribution of each channel, and whether the channels bring people who stay to look around your site after arriving. Note that all Google Analytics reports are for a period that you can specify in the top right of the interface.
A session is counted for each visit to your website. Bounce Rate is the percent of sessions that start and then no further action is detected for 30 minutes (the user may have closed the browser tab or left it open but not clicked anywhere).
Your website may not have traffic from all of the possible channels. Visitors coming from Social, Paid Search and Email will depend on your marketing program. If you are linking to your website from email campaigns but not seeing the data in the Channels report, it is likely that you haven't tagged the email links for analytics reporting.
If you would like to see a breakdown that is more granular than Channels, try the Source/Medium report in the same menu path.
What are people looking for when they find your website through Google?
The reports that uncover this information are not available by default, as there is a little bit of set-up required. With any luck, this has been done when Google Analytics was implemented but, if not, I think it is worth the trouble. Search engines are how people find you online, and Google is the most widely used. You will want to make sure that you are showing up for the search queries that you would expect people would use to look for your business.
Two reports found under Acquisition > Search Console can help you. The Queries report shows search queries, with the number of clicks to your website from each query, the number of impressions (the number of times your page was shown in search results for that query), click through rate (CTR; clicks divided by impressions), and average position (where on the search results pages your result appeared, on average).
The Landing Pages report is similar, but the data is grouped according to the page where searchers arrived on your site.
A caveat with these reports – Google will not show you all search queries that resulted in your site appearing in search results. You'll see quite a big discrepancy if you compare the number of Clicks in this report with the number of Sessions in the Channels Report. Google says "To protect user privacy, Search Analytics doesn't show all data. For example, we might not track some queries that are made a very small number of times or those that contain personal or sensitive information".
To uncover nuggets from these reports, ask yourself:
What search queries would you expect to see here but are missing?
Are there pages that you would expect to be found by search, but they are not?
Do some of your pages or some search queries have very low click-through rates in comparison to others?
Are you showing up often for search queries that don't reflect what you offer?
These reports can highlight where you need to work on improving the match between the topic/intent of the page, the actual content on the page, and the page title and meta description that appear in Google search results. A good match across these 3 things make it easier for Google's algorithm to show your page in the search results in response to a searcher who is looking for a business like yours.
A tip: if you want to see how each of your web pages shows in Google's search results page, type site:example.com/ into Google search, where example.com/ is your website. What you are seeing are the page titles and meta descriptions. Titles and meta descriptions have 2 roles – they tell the search engine what your page is about (along with the content on the page itself) and they entice the searcher to click on your page. Make sure you use meta descriptions to improve searchability.  If you don't fill this field in your content editing tool, Google will select some text to display under the search title.
I mentioned at the start of this section that some set-up may be required. If you don't see anything under these reports, it will be because Google Search Console is not linked to your Google Analytics property.
You can make the association in the Google Analytics Property settings if your Google login is already the owner of the Google Search Console account. The steps are shown in the following screen shots.
If you are not an owner of the Google Search Console account, my video shows you the steps for the set-up process:
Where are your users coming from?
Total website traffic is interesting, but if you have a local business, you want to know that you are attracting website traffic from the local area. The Location Report, found under Audiences > Geo > Location, provides visual representation in a map then more detail in a table.
At the top of the report, you have the option to display results by city. You can also click on a country name within the report to drill down to state/region.
The 'Secondary dimension' selector lets you break down the results further by adding 'Default Channel Grouping' as a secondary dimension. This will show you the channel by which users arrived at your website.
Are your marketing activities leading to valuable actions on your website?
You probably have forms on your website where people can contact you or opt in to your mailing list. In Google Analytics, these valuable actions can be flagged as 'Conversions', and reports will help you understand the pathways that lead to them.
Conversions in Google Analytics come in 2 types – goals and transactions.
A goal can be any action on your website that provides value to your business. It might be paged-based (e.g. a user visits a thank-you page), event-based (e.g. if a particular form submission or button click represents an action that has value), or a goal based on session duration or pages visited.
A transaction is a purchase on a website.
If your Google Analytics implementation was planned with your business goals in mind, goals and transactions (if applicable) will have been enabled and configured, and you will see data in the Conversions columns in many of the reports. If you can't see this, it is worth getting some help from your analytics expert, since goals give insight into the characteristics and behaviours of your 'converters', so you can keep fine-tuning your marketing.
One report that I recommend you look at is the Top Conversion Paths Report, found under Conversions > Multi-Channel Funnels. I like its visual simplicity and impact, showing how each of the channels contributes to conversions and conversion value. Some settings to look out for at the top of the page – you can select the Conversion type – goals, transactions or all. Check that path length is set to 'All' so you will see all of the conversions.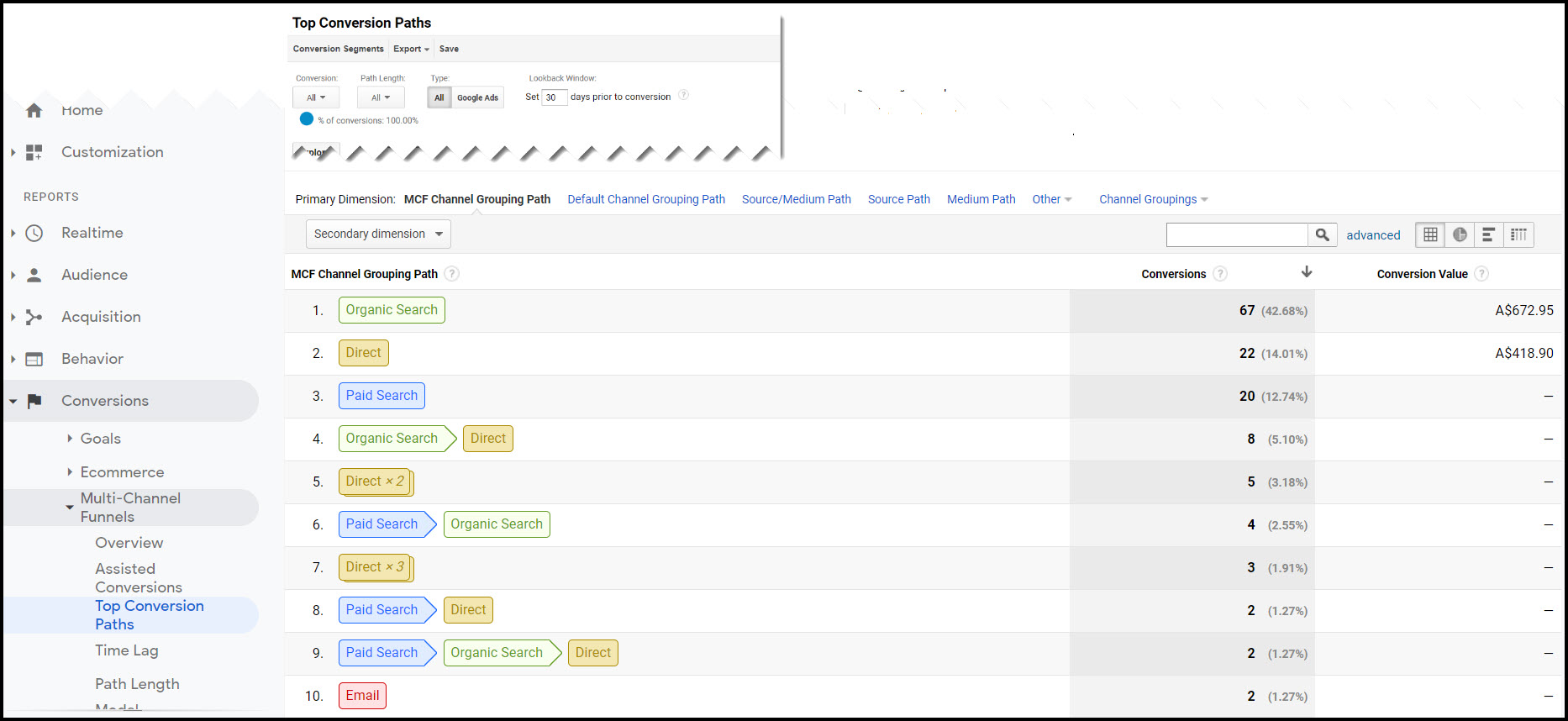 Save your favourite reports for easy reference
Once you determine which reports are your favourites, save them. The Save button at the top right of the Google Analytics interface allows you to name a report and save it, so it will be available under the Customization menu in 'Saved Reports'.
This is especially useful if you have applied filters or segments to get the view that's right for you, as these will be saved too.
In conclusion, Google Analytics provides a wealth of data, but it is not always easy to know what to look for. When people are starting out with Google Analytics, I always recommend that they start by focusing on a few reports that reflect what is important to them.
The next step you could take in personalising reports is to use a reporting tool on top of Google Analytics. For my clients, I generally use Google Data Studio, a tool that lets me generate interactive and clear reports for the data that matters to the business.