Finally, my Google My Business postcard arrived in the mail! It took a couple of months, probably because of Covid-related delays, but that's water under the bridge … now to get my listing completed.
I've documented what I learnt as I worked on my listing – I hope this is helpful if you are at a similar stage, or just want to review your listing and make it as good as it can be.
First, get the basic details completed
Build your profile in the 'Info' section In your Google My Business page – found at business.google.com when you are logged on to your Google account.
You will have already added your business address and website link before you requested verification. Now make sure your business hours and phone number are added to your listing.
You can also activate Messaging, so that people can message you directly from your listing.
Business address tips
Make sure that the business address is exactly the same as on your website, and that your address appears prominently on your website – you could put it in the footer so that it appears on every page. Doing these two things will be good for website SEO.
If you have more than one location, create a listing for each location.
You can link from your address on your website to your Google My Business listing – get this link by clicking 'Share your Business Profile' and copying the link.
What if I don't have a business address?
If you run your business from home, and you don't want to advertise your home address on your listing, you can instead specify the area you service. This could be  a set of postcodes. Google My Business listings are intended to help people find local businesses, so specifying a huge service area will not cause your listing to be found by more people. In fact, the 'local search' will use your actual business address, even if you have opted to hide it. I have heard it recommended that you should start by specifying a small area around your business base, and then expand it as your listing gets more views. Your listing shows with a map of the area you have specified.
Photos for your Google My Business listing
Add photos of your business – if you have a business premises, photos of the outside will help people to find you.
Hint: upload photos using the Google My Business App on your phone, rather than via your  desktop browser. This way, you will be given the opportunity to add a caption to your photo as you upload it. This 'meta data' helps your images to be searchable. For example, use the caption to specify your business name and location in images of your business.
Photos of yourself and your team going about your work make people feel that they already know you a little bit. If you work by yourself, photos with customers can do just as well. Not all businesses have products or services with dazzling visual appeal. Instead of this, you could add a creative image that reflects the essence of your business (maybe from your website or branding).
Add fresh photos from time to time to keep your listing looking interesting.
Appointment links
This feature enables people to go directly to your appointments page on your website and make an appointment with you. How good is that! Even if your business isn't the type that offers appointment-based consultations, you can still use this for the 'no obligation chat' type of appointment. By using a service such as Calendly or YouCanBookMe, you can easily set up a calendar on your website for these types of appointments.
Ask for Reviews
Reviews will help your listing to stand out. People do read them and use them to inform their choice. Make it a habit to ask your customers to review your business. You can get the link that people will use to write a review by clicking on the Home menu and then on 'Share review form'.

You could use this link in a thank you email to clients, on a card that you give to clients, in your email signature and on your website. You could also ask vendors and other businesses you work with to review you, and you can do the same for them. Even though they are not customers, this still gives people an impression of what it is like to work with your business.
If you have more than one location, with listings for each, then you will need to get reviews for each location.
Other things you can do in support of your Google My Business listing
If you want to be found as a local business, then there are some other things you should do:
Get your business listed in local directories.
On your website, devote a page to describing your location – including directions to get there, mentions of other nearby landmarks or prominent businesses, mentions of parking facilities nearby, an embedded Google map, images of the location (with 'alt text' naming the location).
If you have more than one location, create a separate page for each, so that each page will be optimised for search for the location.
Insights into who is seeing you
Google My Business has an Insights page where you can see how many times your profile was found through searches on a topic or category, service or product, and how many times through searches on your business name or address.You can also see data on clicks through to your website and other actions.
If you use Google Analytics to track visits to your website, it is also a good idea to make sure the clicks from Google My Business will be differentiated from those from Google search results. By default they will all be counted together. Get around this by specifying your website link in Google My Business as:
companyname.com.au/?utm_source=google&utm_medium=organic&utm_campaign=googlemybusiness
In your 'Acquisition > All Traffic > Channels' report, you can add 'campaign' as a secondary dimension to see visits resulting from clicks on your Google My Business listing.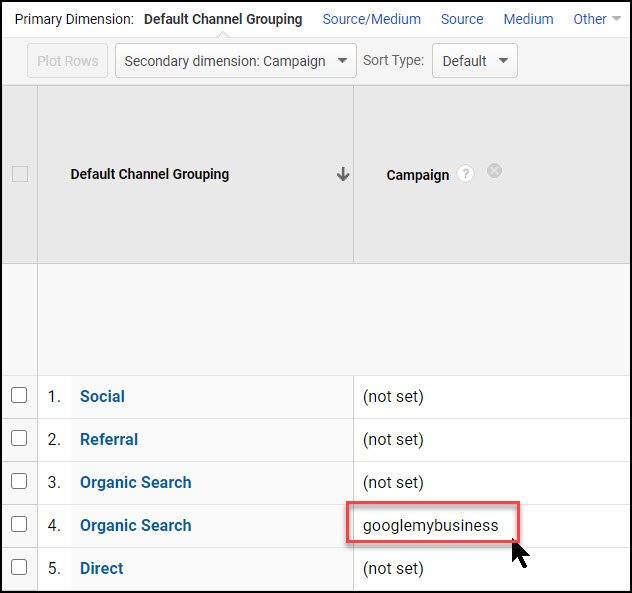 Set a reminder to review your listing from time to time
Don't 'set and forget' your listing. Check it from time to time and think about whether any updates are needed. Add new photos and posts to keep it fresh. You could also ask someone else to look at it with fresh eyes, and tell you whether it stands out and makes them want to visit or contact your business.